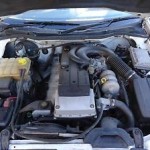 ---
Part Specifics
Stock Number:— A17637
Part Condition — Used
Part:— Engine
Make:— Ford Falcon
Condition & Options:–– 4.0 DOHC, BA, 10/02-09/05
Year:— 2004
Mileage:— 199555
Price:— $295.00
Interchange Information:— Will also fit into the following models:
FAIRLANE

2003

–

2005

BA 4.0 DOHC 07/03-10/05




FALCON

2002

–

2005

4.0 DOHC, BA, 10/02-09/05
Engine Parts Warranty:— This is a tested engine. We offer a 3 month unlimited kilometre parts warranty on all used mechanical parts. Learn more about our spare parts warranty.
You can upgrade to a 6 or 12 month parts and labour warranty at an extra cost at time of sale. Warranty will be void if parts are dismantled or tampered with. Any part returned under warranty is to be complete or sold as is. Any accessories, manifolds or wiring, if fitted are not covered by the warranty and may not fit your model. We recommend the use of your existing accessories.
We will not cover any claim that is caused by any of the following:
Incorrect or insufficient fluids or oils
Overheating or heat tab removed
Improper installation or application
Accident damage, overloading or misuse
Unauthorised repairs or failing to properly maintain.
Parts Delivery:— We deliver our stock of spare and reconditioned parts Australia-wide. Get the terms of our spare parts delivery.
Pick-Up Details:— For more information, and to find our location, simply contact us.
BROOKVALE SPARES
82 PERCIVAL ROAD SMITHFIELD NSW 2164
PHONE 02 8788 8840
MONDAY TO FRIDAY 8AM TO 5PM